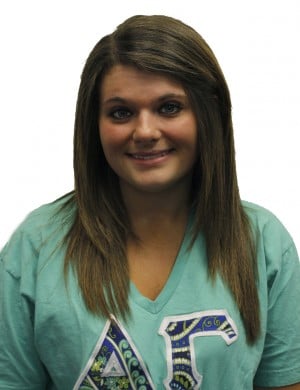 UPDATE: EVERYONE, IT'S OK. I THINK I FOUND PROOF THAT THE WHOLE THING IS A JOKE. A FEW WEEKS AGO, THE SAME GIRL PUBLISHED THIS PIECE THAT SEEMS TO PROMOTE THE EXACT OPPOSITE VIEWPOINT.
CONGRATS, AMBER. YOU FOOLED ME AND HALF OF THE REST OF THE INTERNET.
Yeah, you need to click on that link and read it right now.
The column, by apparently not a fake person Amber Estes, is a few Facebook shares away from completely blowing up. And for good reason. It's absolutely insane.
We have four years in college. Well, most of us at least. Only four short years to attain the thing that is most essential in securing our futures.

That's right ladies, four years to find a husband. Every true woman knows how vital it is to find the right brilliant babe to father their children and replenish their bank accounts. A Southern belle is nothing but a pretty face and pearls without a man to eat her cooking and appreciate her cleaning.
Since the thing is just about to go viral, we talked about covering it on one of the sites at work. Fortunately, one of my coworkers silenced the discussion about whether we should touch the University of Georgia Red and Black column by simply proposing the headline "Random college student has shit opinion." Fair enough. That made us all feel bad.
The other debate going on, of course, is over whether or not this is some kind of incredibly dry satire. The jury's still out, but the fact that Estes has written a bunch of other columns that are completely joke free (but still exasperating in their own right), leads me to believe that she's the real deal.
In the end, we rightfully decided that our national website really shouldn't be in the business of bullying random 19 year old girls we disagree with. Still, I can't help but share some more quotes on my much smaller Tumblr.
Step 2: Spend your free time casually moseying around the law school, Ag Hill or Terry. This is where you'll find the most ambitious guys, which directly correlates to how well they'll be able to provide for you and your future mini Mr. Perfects. The trick here is to look flawless, seemingly without trying. Nothing screams desperate louder than a girl who is all dolled up in her nicest outfits lounging outside of Terry. Instead, throw on a nice fitting frocket (one that displays your letters loud and proud) and make sure you look your finest. Trust me, the fellows will come flocking.

Step 3: Instagram everything. The men will come up to you and flirt during your afternoons on campus, and soon you will be receiving an influx of friend requests. This step is crucial. These boys have only ever seen you in your I-look-good-but-I'm-not-trying attire; they have way higher standards for your going out pictures. Nothing spruces up some mediocre pics like a lighting adjustment and filter on Instagram. Also, make sure you take pictures with your pretty friends, but not ones that are prettier than you. That way the boys know you don't hang around with uggos, but it's also crystal clear that you're the queen of the pack.

Step 4: On your first date, STAY CLASSY. A man won't get down on one knee for a woman who is overly willing to get down on both of hers. You want him to see joint bank accounts in your future, not a joint cab ride home to his place.
This is your chance to live happily every after. Encourage your man to go wherever the money is, and then stay by his side regardless of any circumstance. Pretty soon, you'll be sipping sweet tea by the pool at the country club while some babysitter watches after Junior and Georgia Ann.
I guess I should hope that this is all one big joke, but really, who am I to say Amber is wrong? If her dreams of eagerly awaited domestic servitude make her happy, then God bless her. Just as she bravely supported the rights of women "after child bearing years" to read dirty sex scenes in this column, I support her right to get her MRS degree.
katiesimon reblogged this from jonbershad and added:

Honestly, whether or not it's real, my favorite part of this article is this: "Step 5: After he calls (and he will...

halphillips likes this
jonbershad posted this